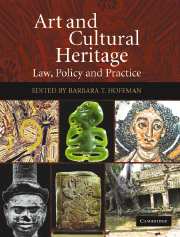 Return of cultural treasures
discussed at UN-backed conference
UN News Centre, 3/17/2008
"The return of the Stone Birds of Great Zimbabwe, the Axum Obelisk of Ethiopia and a ceremonial mask of the Kwakwaka'wakw people of Canada are among recent examples of successful restitution of cultural property to be discussed at a United Nations-backed conference opening today. . . . Participants will exchange experiences and cover ethical and legal aspects of the issue, along with the topics of mediation and diplomacy, display sites and cultural context of artefacts and international cooperation and research, UNESCO said.
Discussions will also take place on ways to strengthen the action of the
Intergovernmental Committee for Promoting the Return of Cultural Property to its Countries of Origin or its Restitution in case of Illicit Appropriation."
Recommended Book:
Art and Cultural Heritage: Law, Policy and Practice
Edited by Barbara T. Hoffman. Cambridge University Press 2006.
Art and Cultural Heritage is appropriately, but not solely, about national and international law respecting cultural heritage. It is a bubbling cauldron of law mixed with ethics, philosophy, politics and working principles looking at how cultural heritage law, policy and practice should be sculpted from the past as the present becomes the future. Art and cultural heritage are two pillars on which a society builds its identity, its values, its sense of community and the individual. The authors explore these demanding concerns, untangle basic values, and look critically at the conflicts and contradictions in existing art and cultural heritage law and policy in its diverse sectors. The rich and provocative contributions collectively provide a reasoned discussion of the issues from a multiplicity of views to permit the reader to understand the theoretical and philosophical underpinnings of the cultural heritage debate.