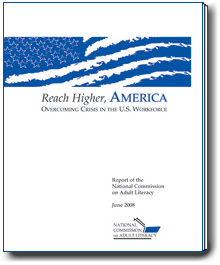 Following two years of study, the
National Commission on Adult Literacy
calls for a program on the scale of a "domestic Marshall plan" to achieve these goals.
The Commission's report,
Reach Higher, AMERICA: Overcoming Crisis in the U.S. Workforce
, calls for a dramatically revamped service system with the capacity to effectively serve 20 million adults annually by the year 2020. It also calls for resetting the educational mission of this new system to demonstrated readiness for postsecondary education and job training. The report recommends specific actions to accomplish this with emphasis on groups most in need of service and on system accountability and results. State and federal government, business and labor, philanthropic groups, nonprofit organizations, and the general public all have a vital role in meeting the Commission's vision for America's 21st Century workforce.